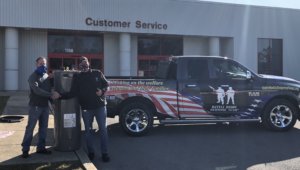 Acting on a request from a concerned party about a Navy veteran's living conditions, Battle Buddy Response Team did what they do best and sprang into action this week.
After making contact with the veteran and visiting his home, they discovered he had no running water, an unusable toilet, inoperable stove, and inadequate electricity.
The Team pitched in immediately and began calling plumbing companies, supply houses, and electricians
Within an hour of leaving the veteran's home, they had secured the donation of a hot water heater and the services of a plumbing company to install it. The plumbing company also agreed to fix the veteran's toilet for free, and an electrician is bringing his wiring up to date.
There is no red tape. The organization knows how to get things done and will go above and beyond as soon as they receive a call for help.
This is not the end of the story for that veteran. Battle Buddy Response Team has more surprises planned for him. Follow them on Facebook, TikTok, Instagram, Twitter, LinkedIn, and YouTube, to keep up to date on this veteran's story and the Team's other accomplishments.

Please consider making a donation so that Battle Buddy Response Team can continue the work they do.
All donations go to supporting veterans and helping to make their lives better.
Remember, if it were not for veterans, this nation wouldn't be where it is today.
Veterans deserve the best and Battle Buddy Response Team is the best at what they do.