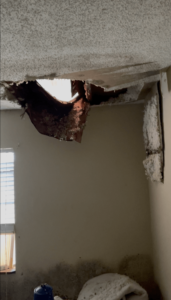 We are working with a disabled veteran in Middleburg, Florida and we need to raise a minimum of $5,000 to do some major home repairs for his roof and interior that has been damaged over time. This veteran served 28 years in the United States Navy proudly. His roof is almost gone, there is black mold everywhere, the siding is coming off, the interior drywall needs replaced. All help is appreciated and if you follow us on our social media accounts you will see the damage in the video taken. Please donate on our website at: https://battlebuddyresponseteam.org/donate/  .
If you are a contractor or a suppler of building materials and would want to help with this project then please email us at info@battlebuddyresponseteam.org
This veteran deserves to live in a home that does not look like this so lets make that happen for him!